FROTH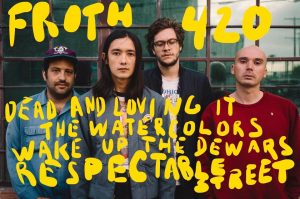 Like a lot of great bands, Froth started as a name and daydream. The fellas in Froth dreamt of putting out a blank record that would spin silence for 20 minutes in an Andy Kaufman-esque display of chicanery. However, it's the people who dream the hardest that seem to be able to harness that ethereal energy and have it coalesce into an actual musical entity.
Jeff Fribourg, bought an omnichord on Ebay and stared at it in his house until he and Joo-Joo Ashworth were called to make Froth a reality, due to fate and a sense of duty. Whatever the case, it was kismet that Froth would come together to make dreamy-psych, rock. Lolipop records mentored the group through the Echo Park scene, championing Froth and motivating them to continuously move forward with their progress. The self-released e.p., "Gas Money" sold out its initial run and the band was picked up by Burger Records; the label du jour for psych and garage rock kids in the know. In a pretty short period of time, Froth went from a concept, to a band, to a band that would record an extended track for the Saint Laurent 2014 Men's Fall line. By the time the band was ready to record their second album, Fribourg had left the band and the group began to explore more guitar rock territory, changing the sonic palette of the groups sound. No matter, the inclusion of more guitars only helped to make the bands sound more cohesive.
Not that they have much in common, other than some pretty decent songwriting, but Froth's story is reminiscent of bands like: Ween. Dreamers with a concept and the passion to try and follow through, without the actual chops in place to make things happen; those come later in the story. The punk band, the Dicks, from Texas are another group who were an idea of a band before they were an actual band. It's fascinating to see players with the musical acumen to regurgitate intricate songs, note for note, but when it comes to having the passion to write and record music, they fall short. Being an artist isn't about being technically good at all, it's about seeing the potential of a blank canvas, or knowing how to make sense of a mess; listening to things and hearing the notes that are being over-looked by others and realizing that in-between those notes is where the melody is. It's not rocket science, it's born of curiosity, patience and a willingness to try and make sense of the world. It's not so much that dreamer's make better music, but those songs have been rolling around their skull for god knows how long? They've been marinating long enough for the artist to know exactly what it is, even if they aren't entirely sure how to get there. It's a destination, without a defined, mapped out route… in other words, an adventure!
Their latest effort, the gorgeous synth driven record Outside (Briefly) was released late February and the yellow vinyl has already sold out.
Froth play Respectable Street, April 20 at 9pm with Dead and Loving It, The Water Colors, Peyote Coyote,The Dewars and Churchill's April 19.